Home
Ants
Fleas & Ticks
More Info
Contact Us



PO Box 18808
Dalbridge
DURBAN
4014
R.S.A.

Tel: 031 2053986

Mike:
Cell: 084 477 3344

Michele:
Cell: 082 9282 476

Email:
info@deter-ant.co.za

Visit our other site:
www.humi-go.co.za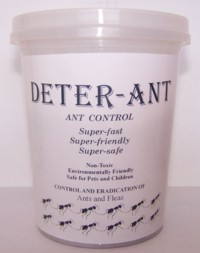 DETER-ANT is not a poison
DETER-ANT will not harm your family
DETER-ANT will not harm your pets
DETER-ANT will not leave a harmful residue long after application
DETER-ANT is made from the finest food grade quality silicon dioxide available in South Africa. Silicon dioxide consists of millions of prehistoric algae-like cells that lived and died in water thousands of years ago. In South Africa it is mined in the Karoo and it is also found in the Sahara desert. DETER-ANT is proudly South African and proudly leading the way forward in providing an environmentally sound alternative to using poisonous chemicals.
For the many of us who are health conscious, environmentally aware and worried about the increasing rise in disease because of the toxins that we breathe, eat and drink daily, DETER-ANT is the answer
DETER-ANT offers additional benefits to users:
No need to expose your children, yourself or your animals to harmful chemical poisons.
Animals who might lick the powder will not be poisoned and might even get additional
benefits by ridding themselves of harmful intestinal parasites and worms.
Contains 14 essential trace elements and minerals.
Acts as a plant stimulant and fertilizer when watered or dug into the ground.
Will not decompose and will simply be absorbed back into the ground (where it came from).
Will not poison anything else it comes into contact with, i.e. earthworms.
Because it is food grade it is safe to use in kitchens and pantries or anywhere else
where it might come into contact with food.
Will not leave a poisonous residue for years after use.