Home
Ants
Fleas & Ticks
More Info
Contact Us



PO Box 18808
Dalbridge
DURBAN
4014
R.S.A.

Tel: 031 2053986

Mike:
Cell: 084 477 3344

Michele:
Cell: 082 9282 476

Email:
info@deter-ant.co.za

Visit our other site:
www.humi-go.co.za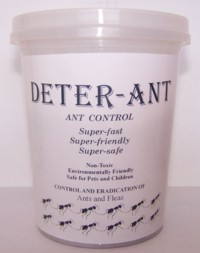 Thank you for your interest in our site. We hope that you have found it interesting and look forward to hearing from you
If you are 'local' you can find us at the Essenwood Craft Market and Shongweni Farmers Market every Saturday. We are also on the Durban North Golden Hours market on a Sunday.
We have had lots of interesting feedback from customers and look forward to hearing your stories too. With your permission we will put them on our Facebook page. Please send pictures of your pets as well if you are using DETER-ANT to control fleas and ticks.
Contact us via e-mail at info@deter-ant.co.za or via our page on Facebook and become a fan!
Best wishes,
Michele