Home
Ants
Fleas & Ticks
More Info
Contact Us



PO Box 18808
Dalbridge
DURBAN
4014
R.S.A.

Tel: 031 2053986

Mike:
Cell: 084 477 3344

Michele:
Cell: 082 9282 476

Email:
info@deter-ant.co.za

Visit our other site:
www.humi-go.co.za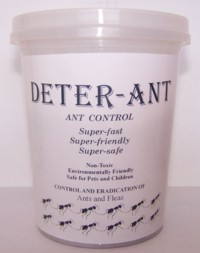 FLEAS AND TICKS
Fleas and ticks make for unhappy and often unhealthy animals. Unfortunately they make us humans pretty unhappy too! The general rule when dealing with animals is 'do not apply on puppies and kittens until they are at least three months old or any animal with pre-existing skin conditions'. DETER-ANT does not contain chemicals and is not poisonous but puppies and kittens have sensitive skin and their lungs are still forming. It is safer to use a flea comb until they are more mature.
Cover one area of the animal at a time, for example start on one leg and then go on to the next leg.
Apply a light dusting to your pet and gently work into the hair, down to the skin. Pay particular
attention to the areas around the shoulder blades and neck where your pet is unable to scratch.
The fleas will normally use this route on the way to their 'watering hole' at your pet's eyes.

Flea larvae will hatch for up to four weeks after the first application and you need to reapply once
a week during the first month until the hatching larvae have been eradicated.

Ticks crawling onto your animal will die after they come into contact with DETER-ANT on your
animals skin.

Apply a fine dusting to your animal's blanket and/or sleeping area. This will kill hatching larvae
in the bedding and prevent ticks from climbing onto your animal.

Does your pet have a favourite place in the garden where it will roll in the soil to try to rid itself
of fleas and ticks? Apply a dusting to this area as well.